"Yes, it took a long time for me to feel really supported and I feel like there is a way to overcome that, by surrounding yourself with positive people. The Guardian Scholars program has really made me feel like part of UCSB. When I first came to UCSB in 2012 I built friendships with different Guardians Scholars and I felt very welcomed and supported, especially by the oldest girls… Ever since I came to the first event, I feel a sense of community. Previously, when I first started this quarter, I felt very lonely and I had no friends. Guardian Scholars has allowed me to feel comfortable and happy."
-Eileen Paguio
UCSB Guardian Scholars Program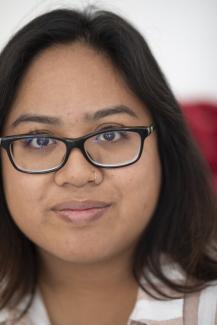 "When I turned 18 we were staying with my older brother. Then my twin brother Nathan and I moved to the beach right next to the city college (SBCC). For about six months we went to school and stayed in the back of our truck and then realized what financial aid was. They had a Guardian Scholars there too which helped us."
-Ethan Escobedo
UCSB Guardian Scholars Program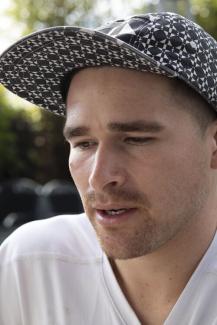 Guardian Scholar Wish List
Some of our current Guardian Scholars have let us know that they are in need of the following items.

If you would like to donate any item on the list, please contact Stephany Rubio.
Employment opportunities
Student volunteers
Housing assistance
Transportation assistance
Couch
Household furniture
Cookware
Whiteboard
Plates/cups/eating utensils
Microwave
Meet Our Guardian Angels
These outstanding donors have contributed to the continued success of the Guardian Scholars Program. We are extremely grateful for their generous support.
The Makarechian Foundation, Inc.
Steven M. Hilton '74 and Lisa Hilton, Conrad N. Hilton Foundation
Nisbet Family Foundation
Wayne and Lynn Barker / Village Properties
Mr. Steve Bennet
Leslie Dorosin and Steve Bennet
Mr. Arnold E. Brier
Walter and Lynne Clay
Tyrena and William Jones / Kirby-Jones Foundation
Assistance League of Santa Barbara
A.S. Bike Shop
Transportation Alternatives Program
UCSB Bike Team 13
Harvey and Hope Schechter '47 
The Estate of Thomas Shroyer '69
Mr. and Mrs. Fred Nasri
Teach a Man to Fish Foundation / Vinnie and Tori Smith
Green Foundation / George and Kathleen McCrimlisk
Paul and Anna Makarechian
Keith Palmquist
Joe and Navas Shooshtari
Richard Mulder / Heel Bruise
Michael and Jennie Davidson
Wendy Foster
Julie Henley
Donna Mancusi and Megan Valentine
Paul Orfalea / Bob Nunez, DDS 
Kim and Soren Kieler
Sallie and Bijan Saless
Ali and Jordan Quivey
Walter and Lynne Clay
Jeffrey Wattenberg
Roman Tsunder
Ali Jahangiri
Stephen and Maria Black
Jill Feldman and Arnie Brier
Mollie and Ali Ahlstrand
Ryan Mills and Ed de Vicente
Eve Briere and Andy Maltz
Sherry Zalfaghari
Joe and Navas Shooshtari
Richard Mulder / Heel Bruise
Michael and Jennie Davidson
Wendy Foster
Julie Henley
Donna Mancusi and Megan Valentine